Co-living is a residential community living model that accommodates three or more people living in the same home, facilitated by a professional host.

Co-living is a lifestyle centered around an intentional community that provides shared housing for people with similar values or intentions.

Co-living spaces are well-designed, with private bedrooms and bathrooms, and shared living spaces. Our homes allow you to socialize when you want to, and to be alone when you don't.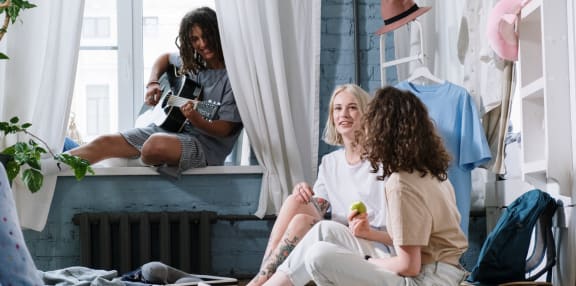 Its Affordable
If you're looking to save money, living with roommates is one of the best ways to significantly pare down your spending.


Less Liability
It offers less financial anxiety of living with others. Individual room leases rather than group leases eliminate the stress of roommates paying on time or moving out early.

Built-In Community
Whether you're moving to a new school or busy with work, making friends as an adult can be hard. Co-living offers a community of people to share meals, watch moving, do homework, or just talk.







Do we only lease to students?
No, we lease to anyone that meets our qualifications
Do we allow co-ed living?
No, all of our apartments are strategically matched through our roommate matching service and each apartment is separated by gender.
Are we pet-friendly?
Yes
Do we have furnished apartment homes?
Yes, we do have furnished homes that are reserved for students only.
Do we have onsite maintenance?
Yes, maintenance is here Monday - Friday, 9 AM - 5 PM, and on-call for emergencies after hours and on weekends.
Can I have visitors or overnight guests?
Yes, you can have an overnight guest 2 nights per week but no more than 8 days a month.